Medical Devices >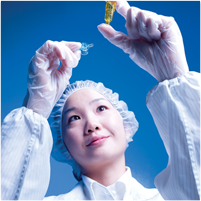 Univac has established itself as one of Asia's premier sources for the design and manufacture of custom plastic injection tool and molded components for the medical device and life sciences industry.
We have partnered with leading medical device OEMs to design, manufacture, and assemble products including insulin cartridges, diabetes meters, handheld surgical tools, single-use medical supplies, and laboratory instrument consumables including sample cups, petri dishes, and microtiter plates. We have successfully brought to market programs with annual demand in excess of tens of millions of parts.
Our in-house tooling operations develop medical and life sciences molds for components requiring high cavitation, high precision, complex mold design, ejection sequences, and quality aesthetic finishes. Many of these components require ultra-precision tooling with tight tolerances, repeatability, and long tool life with minimal maintenance during production.
Our medical device and life sciences manufacturing services include molding production, assembly, and packaging capabilities in a Class 7 and 8 cleanroom environment. We are ISO 13485 certified in all our facilities, and operate under good manufacturing practices for both high volume disposables and low volume equipment needs. Univac's expertise in the medical device and life sciences field offers a knowledgeable and trusted source for the successful development of concepts from drawing board to completed product.
Quality is the top priority with medical and Lifescience devices, with all manufacturing in Class 7 and 8 cleanroom facilities. Univac has produced hundreds of millions of medical devices and consumables, including:
Infusion IV sets components
Injector and drug delivery devices
Diabetes glucose monitoring systems
High-volume medical supplies consumables
Single-use surgical devices
Lifescience diagnostics consumables
Capabilities Include
Product Development
Prototyping
ISO 9001:2000 and ISO 13485 Certified Facilities in Singapore, Malaysia and China
Molding: Conventional, Insert, Multi-shot, Liquid Silicon Rubber
IQ/OQ/PQ Validation Protocol
Clinical Trials Build
Cleanroom Production Class 7 and 8
Production according to GMP and Quality Assurance
Semi Auto and Fully Automated Assembly Lines for High Volume Production
Contract Cleaning and Sterilization Partners