Molding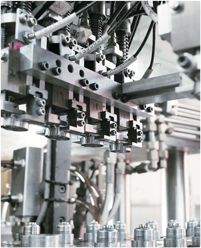 With decades of molding experience behind us, Univac has grown to be one of the top precision custom injection molders in Asia. We hold certifications for ISO 9001, ISO 13485, ISO 14001, and TS 16949.
Univac operates three manufacturing facilities across Asia, with controlled environment and cleanroom capabilities, housing more than 250 molding machines that range from 15 to 500 tons. We offer expert processing capability for the entire range of commodity grades up to engineered resins; all molding is monitored with our ERP Navision system.
Employing rigorous validation protocols and statistical processing capabilities, Univac ensures part-to-part repeatability, driving towards zero defect quality system and competitive pricing. Our preventive maintenance tool shop is staffed by a team of experienced toolmakers—all dedicated to maximizing your ROI by keeping your molds productive.
Whether your product requires a single cavity, open-and-shut mold, or a complex, high-cavitation, multiple-gate, multiple-action tool, Univac can handle your job.
Our molding capabilities include:
Processing of Thermoplastic and Elastomeric Materials
Injection Molding – Plastic and Liquid Silicone Injection Molding
2-shot Molding
Insert Molding
Transfer Molding
Cleanroom Molding and Assembly
White Room Molding
Barcoding
Welding – Ultrasonic, Resistance, Laser
Assembly – Mechanical, Adhesive, Etc.