Tooling
At Univac, we are relentless in our pursuit of providing optimized solutions that meet the unique, industry-specific demands of today's sophisticated customer. As one of the leading manufacturers in high cavitations molds, we develop molds ranging in sizes up to 256 cavities, utilizing our specialized hot-runner systems. We are internationally recognized for our state of the art technology which ensures exceptional precision, stability, and repeatability.
Our reputation as the premium tooling specialist is one that we do not take lightly. We consistently provide high capacity, fast turnaround fabrication of prototype and production molds. Furthermore, our molds are built to Class 101 standards, undergo stringent qualification runs, and are constructed under the strictest confidentiality.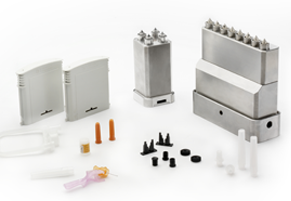 Precision tool design to ensure maximum production efficiency and repeatability
Product optimization, mold flow, DFM
Sophisticated cooling design to minimize cycle time
Innovative customized hot-runner solutions
Standardized mold design process
Detailed mold log documenting insert tolerances
Tool Manufacturing
Single face molds, Stack Molds, Multi Shots Molds with rotary platens, Insert Molds, In-Mold closing
Fully Interchangeable Inserts
Tight and Rigorous repeatable Machining using high speed, high precision machines from Germany, Switzerland and Japan (5 axis milling, jig grinding, EDM)
Steel Selection exclusively from Europe
100% steel check of critical dim's and shut-off areas
Reaching steel tolerances of +/-0.002, hole to hole of +/- 0.005
System Solutions
Together with our partners for injection molding machinery, robot solutions and post molding automated assembly, we can provide system solutions to our end customers. Molds, part removal devices and downstream automation equipment are integrated, tried and tested for system acceptance, including a 100% production simulation.
Commissioning
Process study and validation
DOE and NPI
Process window creation
Qualification runs to specified protocols
In process inspection, steel safe inspection, full first article measurement, CpK analysis
Dedicated testing center with high-end machines

10 machines ranging from 50 to 500 tonnes
Vertical press and 2k multi shot systems

System commissioning including full production simulation, if necessary in clean room / access controlled environment
Service and Training
Detailed Process and Maintenance Training in Univac's or / and at customer location
Service team with fast availability
Spare management with 100% repeatability and fast turnaround